Grocery Bags for Grout
Each Portland Public School holiday or no-school day, the generous people of KPC provide a large grocery bag of food for seven families at Grout Elementary. Food items are donated in groups of seven whenever possible. The bags are delivered on the last day of school before the school holiday.
Socks and Mittens for the Homeless
On Christmas Eve we bring donations of warm clothing such as socks, mittens, hats, scarves, underwear and socks to lay in the manger with the baby Jesus. These items are donated to Grout Elementary to be used for children needing warm clothing.
SnowCap Community Charities
We provide on-going donations of food and clothing to SnowCap, a local agency providing food, clothing, advocacy and other services to the poor in East County including a large part of east Portland, Gresham, Troutdale, Fairview, and Wood Village.
Gifts Given in Secret
Last year the people of Kenilworth provided Christmas gifts for thirty-five children at Grout Elementary School.
Community Garden
Our community garden provides a place for members and neighbors to grow fresh vegetables for their own use. Surplus food is offered to the congregation. Funds raised through the sale of garden produce is donated to a local food bank. Please contact the church for information regarding renting a garden plot.
Kenilworth Community Preschool
Kenilworth Community Preschool is a half-day preschool program for children ages three and four. It is a cooperative preschool where each family is expected to be involved in the creation, development, and upkeep of school programs and initiatives.
Learn more about Kenilworth Community Preschool
Music and Art Camp
Each summer, Kenilworth Presbyterian Church sponsors a week-long day camp for children kindergarten through third grade. The camp features arts, crafts, music and drama and includes a noon meal and snacks.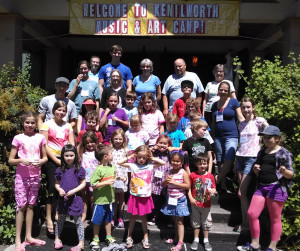 Rahab's Sisters
KPC Presbyterian Women volunteer every second Friday evening at the Rahab's Sisters program held at Saints Peter and Paul Episcopal Church on Southeast 82nd Avenue (between Ash and Pine), from 7pm – 10pm. We serve all women and offer a warm safe environment with food, hot coffee, conversation, and personal hygiene necessities. Like the original Rahab, we strive to give "friendly welcome" to those who would otherwise be on the streets and in danger. We provide welcome faces, friendly encounters, personal hygiene items and clothing, and homemade desserts.
Rahab's Sisters mission is to offer RADICAL HOSPITALITY to vulnerable and exploited women in the Portland metro area, especially those who are impacted by the sex industry, substance abuse, poverty, domestic violence, and homelessness.
Learn more about Rahab's Sisters: 
Narcotics Anonymous
Narcotics Anonymous meets at Kenilworth Church. The group, New Journey, meets at 5:30pm every day of the year. It's in the Book meets weekly on Saturdays at 9 am. Wellbriety meets Tuesdays at 7 pm.