When disaster strikes, Presbyterian Disaster Assistance (PDA) is there to lend a helping hand. One of the things that they do is pass out hygiene kits to people who have lost their homes to floods, hurricanes, tornadoes, fires or other catastrophes.  Presbyterian Women (PW) packed 30 kits for PDA at their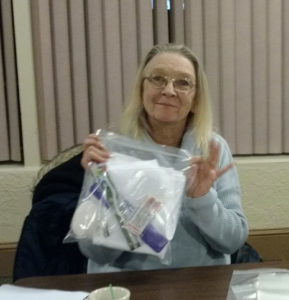 January meeting. They have funds left to make another 65 kits.
Join PW in packing hygiene kits during Fellowship Time on Sunday, February 11. All the supplies and instructions will be provided.
Hygiene kits contain a wash cloth and towel, toothbrush, comb, nail clippers, soap and band aids.